Outdoors 𝑷𝑬𝑫𝑹𝑨 𝑯𝑰𝑱𝑨𝑼 – by Granisel Real !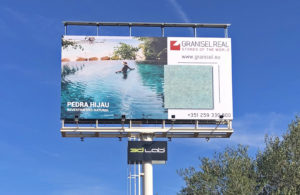 Have you seen our billboards throughout the roads of Portugal?


Take advantage and learn more about the HIJAU STONE on our site :
With the quality and success that Granisel Real is used to offering, this investment would be no different.
With these billboards the goal is to transmit and make known to the society the best natural covering for construction of swimming pools that Granisel Real offers.
Always guaranteeing the best quality of the product and the demanding control processes, assuring excellent results for all projects.
Call now for more information! – (+351) 259 330 600 / 937 415 603 / 932 330 353
marketing@granisel.eu